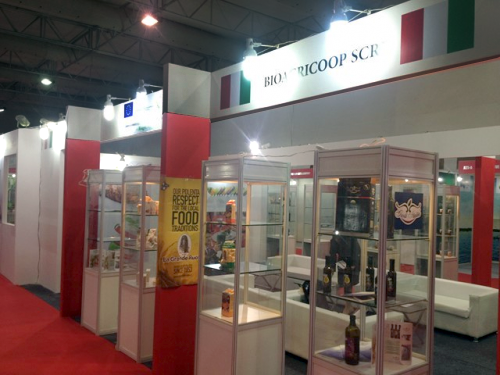 Mumbai Food Hospitality World
Food Hospitality World of Mumbai, in its fifth year, has presented a strong international character.
The exhibition, developed on a pavilion, lasted for three days and attracted 164 exhibitors, of which many international.
In fact, the fair has been an important arena for the promotion of organic products in Europe and the European organic brand visibility in the Indian state of Maharashtra.
The stand was placed in a central area with the aim of creating a biological. The stand of the Project was located at number A17 and was made according to the criteria specified in the project for a total area of ​​96 sqm.
The size of the stand have guaranteed a high profile to the EU logo for organic products. The size of the stand was one of the reasons for the success of the event, reason to which must be added the presence of the European logo, able to generate interest and draw both importers and consumers.
In addition, information activities have attracted the industry keen to sample the excellence of Europe. Television FoodFood of Mumbai, has made shooting at our booth to communicate the benefits of organic farming compared with conventional.
A particularly important aspect that has attracted buyers Indians was the presentation, at the stand of the project, of products already certified according to the EU organic standard.
The information event was held during the second day of the fair Food Hospitality World of Mumbai and has been successful, especially among members of the trade.
The central theme was the European certification, in terms of procedures and requirements for organic operators in Europe to be regarded as such under the legislation in force, the added value in terms of nutrition and trade of organic products. We also talked about the labeling of organic products in Europe and how to read the label to understand the information better.
There have been requests by Indian producers interested in certifying products according to European standards in order to export raw materials to be transformed.
---