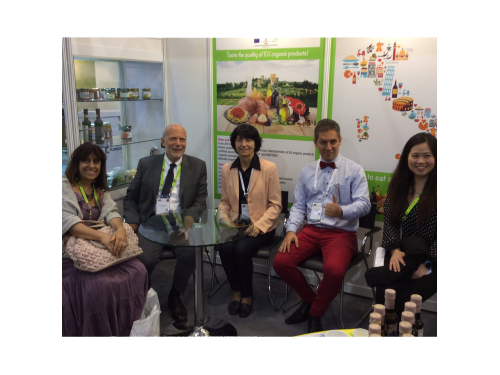 Singapore Fair FHA 2016
The FHA Singapore Fair is held every two years and is the showcase for food all over South East Asia.
Bioagricoop participated in the Fair with a collective stand of 30 square meters, centrally located in Hall 8, dedicated to Food.
Stand was equipped with display cases for the display of organic products from various Italian companies, such as:
extra virgin olive oil and other types
organic wines from Emilia Romagna
cookies and baby food
chips and savory snacks
pasta
ready sauces and pesto
fruit juices
eco-cosmetics
Bioagricoop's booth was included in the Italian area, but was distinguished from other stands of Italian products because characterized and easily identifiable as a space entirely dedicated to organic.
The turnout was very good, with numerous contacts a day. The large part of the visitors showed a high level of awareness and knowledge of the biological: they went to the stand because they were interested in the staff and asked timely and careful questions and discussions. Moreover, many of them were actually willing to buy or introduce biological references into their supermarket/restaurants.
There has been an important demand for foods that are not only organic but specific to health, as food for certain categories (celiacs, diabetics), "free products" (sugar free, gluten free, etc.), vegan products, etc.
The stand has lived 4 days of dense and continuous meetings.
Many good contacts have been acquired with buyers and distributors in Singapore: making agreements with these categories will surely represent an excellent starting point for the stabilization of business relationships with all the countries of South East Asia, being Singapore an important hub for trade in the whole area.
Among the various visitors, journalists and representatives of the European Union Delegation to Singapore have also passed.
---